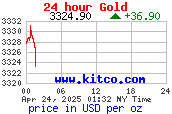 We
buy gold
and give you fair market value! Look at the pricing chart for an up to the minute price on gold that covers the last 24 hours. Please refresh the page to see if the
gold price
changes. The price appears in black lettering at the top of the chart, just below the description of the chart in red. Keep in mind that pure gold, the gold used in jewelry and gold jewelry itself have widely different values.
We do "In Store" Gold Parties! Share
Who would you rather deal with? A brick and mortar store with a long reputation for honesty and integrity or a "Mail Us Your Gold!" operator out of state? Cash4Gold is the biggest out of state/mail in operator in the field of
Gold Buying
. We did a test and mailed in gold that we would have paid $200.00 for. They offered us $60.00. When we asked them to send it back they said "OK, we'll give you $80.00". Again we said "Send it back". Then they offered us $120.00! When we refused this, they said "Too late, its already been melted...". They are the least reputable operation going and pay the least.
If you want a local option, one that is reputable and pays a fair market value and gives you options like repairing the jewelry, using the stones in it to create something new and unique like
custom jewelry
or giving you a 50% bonus in value if you choose to take store credit instead of cash.
Ballard & Ballard Jewelers
are
your
Gold Buyers
.
You can have your own Gold Party! Share
If you'd prefer to host you own
gold party
gathering at your place we can do this as well. Get together as many of your friends as you are comfortable with and we'll bring our weighing equipment and a check book! Hosting a gold party can be a great way to make some extra money and have a great time doing it.
If you're interested in hosting your own Gold Party we've also got a special bonus for you. Call Glenn or Guy Ballard and ask for the details.
There is a difference: we have the top local reputation and work hard to keep it. Whether you choose to go with
Ballard & Ballard Jewelers
every Gold Party should have the following:
We bring our gold testers


We bring our diamond testers


We can remove stones on site or you can pick them up at our store


All stones are clearly documented for the owner


We have our 2nd Hand Dealers License, its a requirement


References available on request


Oldest Jewelry store in Fountain Valley


Call
Glenn Ballard
at
714-962-0088
for more information.
We have been in the
gold buying
and selling business since 1917 and not many people have the family tradition behind them. Honesty and integrity as well as a fair price when we
buy your gold
AND, if you'd prefer, we can turn your old gold into beautiful
custom jewelry
as well.
Just call
Glenn or Guy Ballard
at
714-962-0088
for more information or come by our store at 18400 Brookhurst St., Fountain Valley, CA 92708 between 9:30 AM and 5 PM, six days a week, Monday - Saturday.
We would be happy to buy your gold!